First-Time Buyer Bundle Offers | Limited Time Only!
✓ SLS FREE   ✓ Above-Sea Coral   ✓ Burn Free Formula   ✓ 11ppm SilverSol   ✓ Fluoride Free   ✓ 15% Xylitol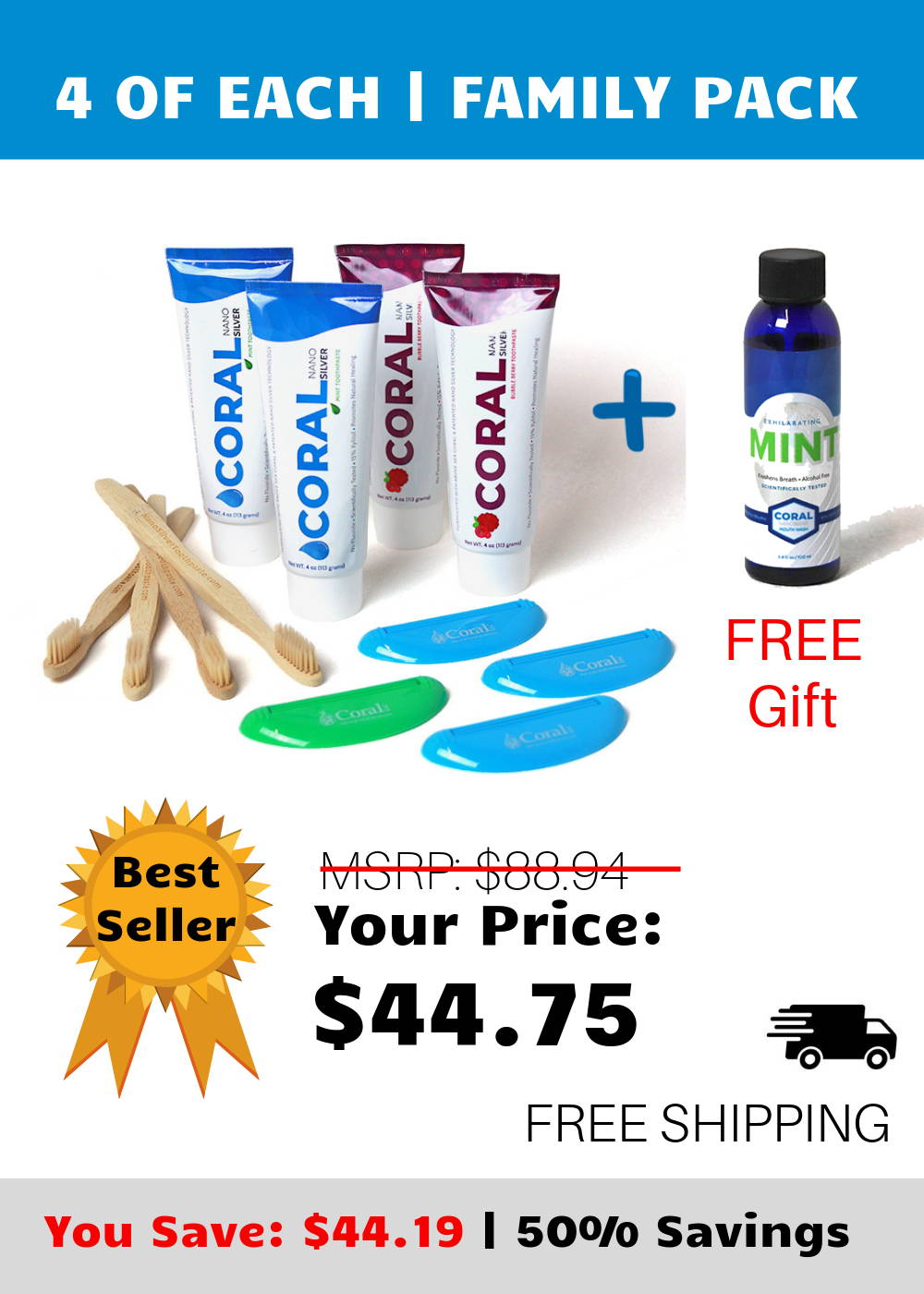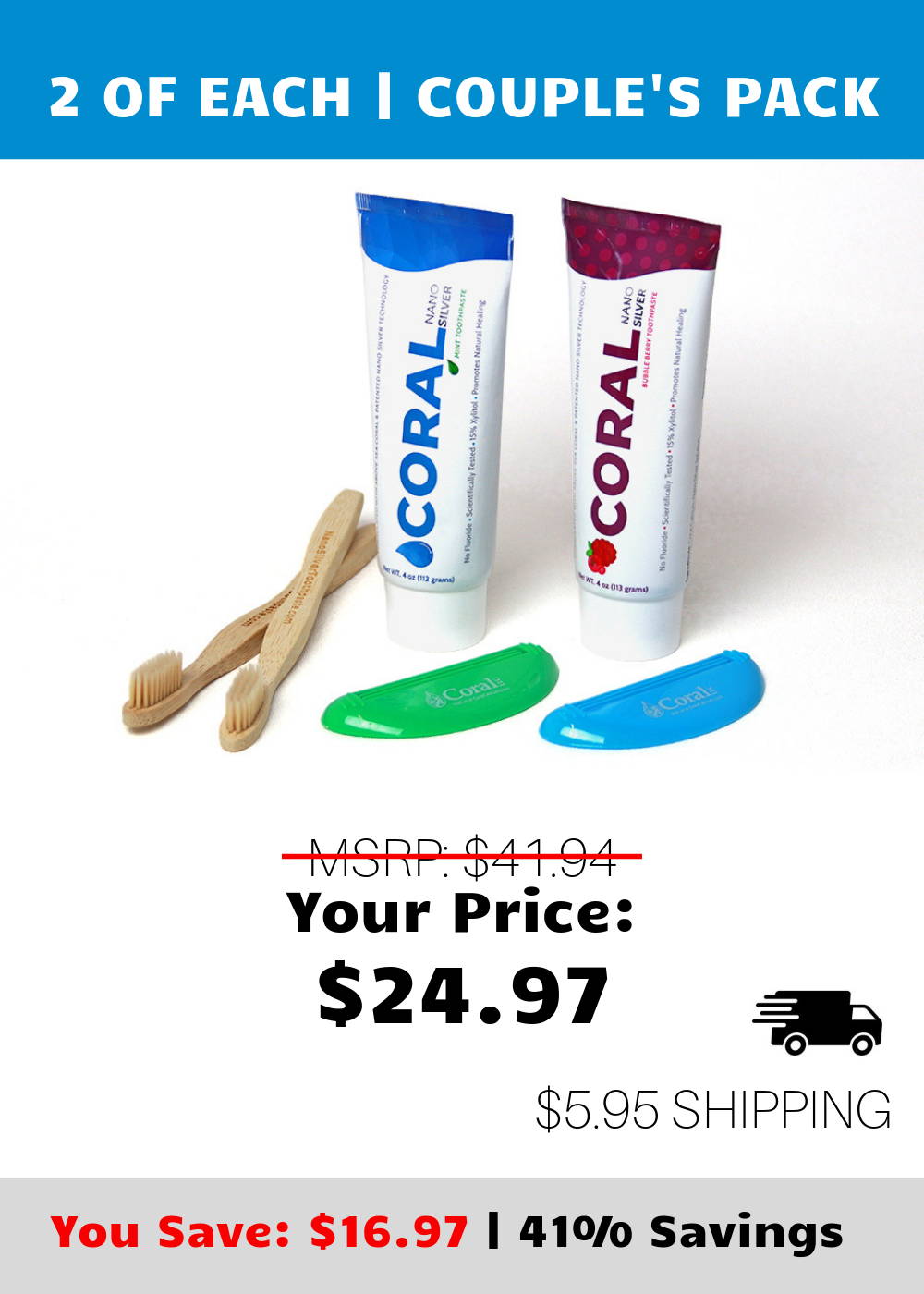 30 DAY GUARANTEE: We stand behind our high-quality products and your satisfaction is 100% guaranteed with our 30 day full money-back guarantee. No questions asked.
30 DAY GUARANTEE: We stand behind our high-quality products and your satisfaction is 100% guaranteed with our 30 day full money-back guarantee. No questions asked.
The world's first toothpaste with ECOSAFE Coral Calcium and SilverSol Nano Silver. Experience healthy, clean teeth and gums like never before. Made with 11ppm nano-silver, xylitol and therapeutic grade peppermint oil. Nano Silver technology gives toothpaste 10 times the bacteria fighting power.
Naturally whitens teeth giving a brighter, whiter smile.
Kills over 650 types of pathogens, 99.99% of the bad breath causing germs.
Fluoride-Free, 100% safe to swallow.
Anti-Plaque. Fights bacteria for 12 hours after use.
Natural "burn free" toothpaste that taste's great. Picky kid approved!
Probiotic Friendly - kills the bad bacteria, keeps the good ones.
Thousands Of Happy Nano Silver Smiles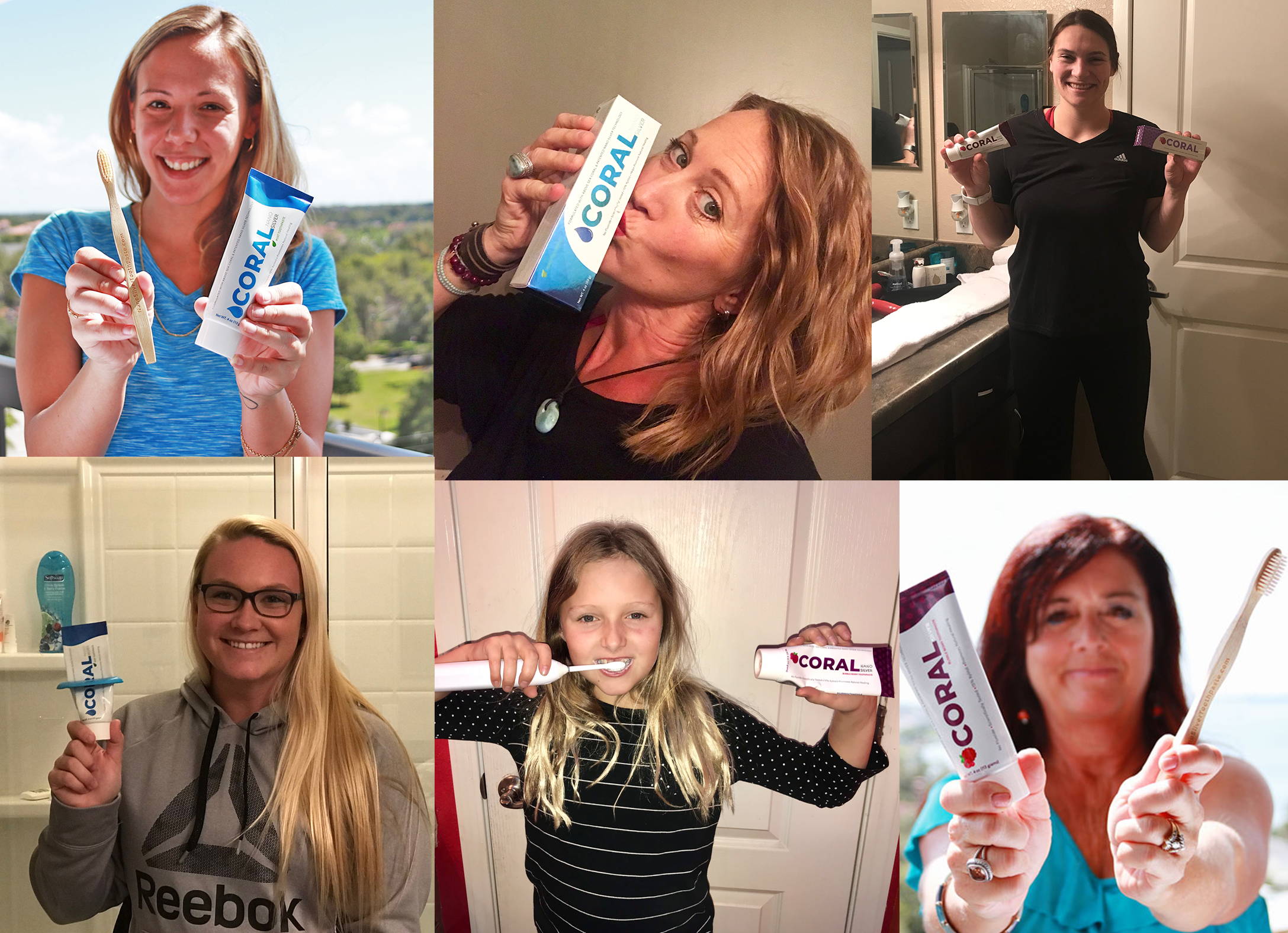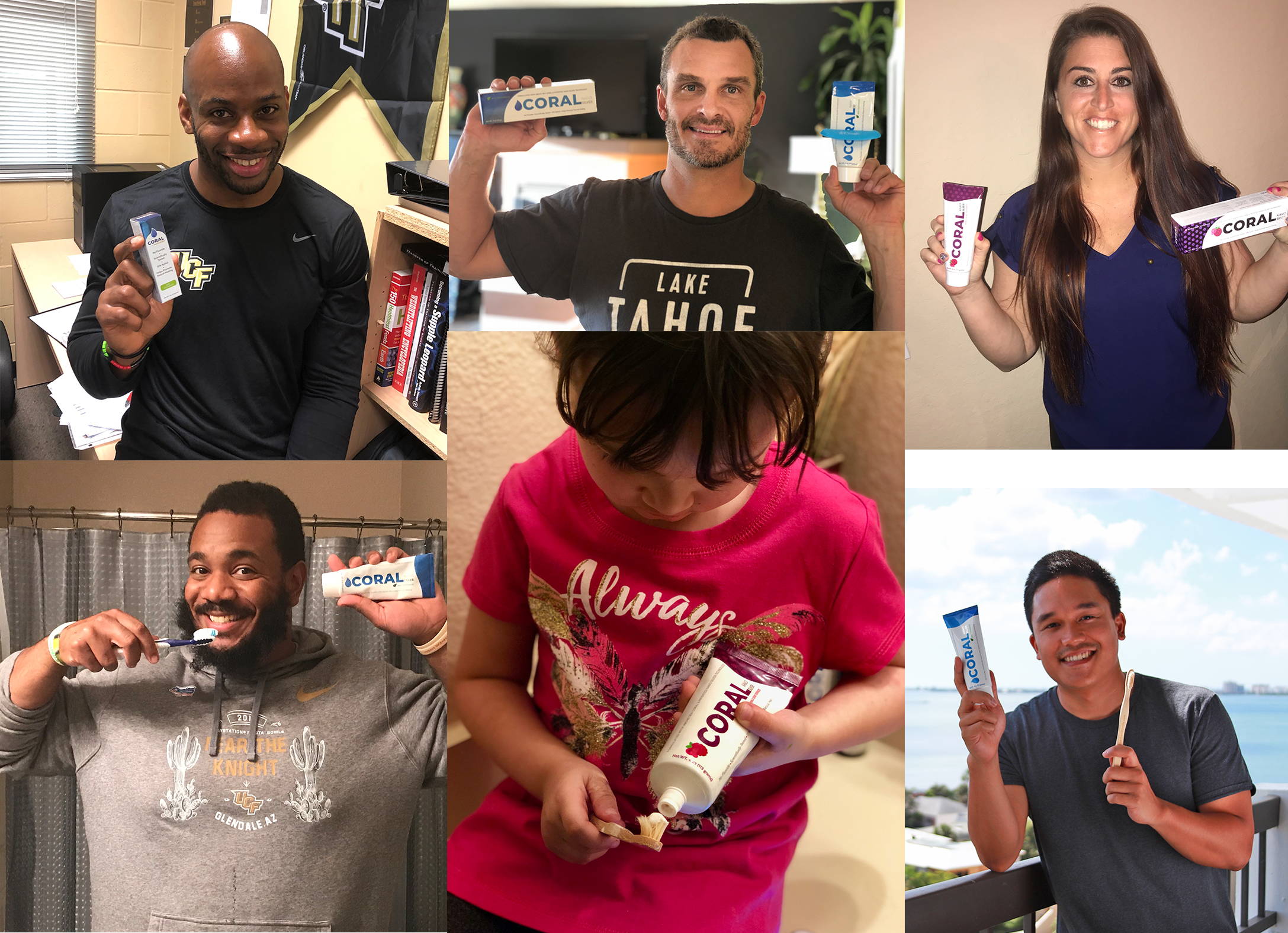 How the World's ONLY Nano Silver & Coral Calcium Toothpaste Works
Most over-the-counter toothpastes do not cut it in terms of health. They are filled with toxic ingredients such as Fluoride, Glycerin, SLS and Parabens. These can cause your body many harmful side effects, including lower IQ, sores of the mouth and even cancer.
Do you REALLY want to be putting chemicals like that in your mouth?
An All Natural, Fluoride Free, SLS Free, Glycerin Free, and Paraben Free toothpaste that will provide you the safest, most effective oral care available. Stop brushing your teeth with the chemicals of the past and use the technology of the future. Power packed ingredients of SilverSol Nano Silver & ECOSAFE Coral Calcium combined with essential oils and Gold Seal Extract give you a superior whole mouth clean, protecting against gingivitis and eliminating bad breath.
Coral Nano Silver Toothpaste is revolutionizing the oral care industry and there is no other toothpaste on the market like it today. It is the world's FIRST toothpaste with Nano Silver and Coral Calcium. This clinically proven formula is safe to swallow and 100% mommy approved!
"The technology of this product really caught my attention. My smile is so bright! Bye, bye plaque!"
KIM
"My family is addicted! My kids love it and even my husband loves it too! Mommy approved!"
ANDREA
"I never realized how strong the chemical burn of Crest was until I switched to all natural Coral Nano!"
RODNEY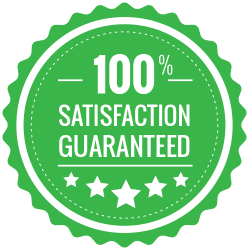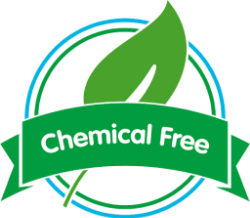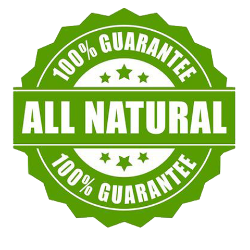 Revolutionary, All-Natural Ingredients We're Proud Of
Above Sea ECOSAFE Coral Calcium
Coral Calcium naturally helps to neutralize acid to restore pH balance to the mouth. When pH is out of balance it provides an ideal breeding ground for bacteria that causes cavities, by neutralizing the acid, Coral Nano Silver Toothpaste prevents cavities and improves overall oral health. Not only does Coral Nano Silver Toothpaste contain the purest form of Coral Calcium, it also contains 73 essential trace minerals.
SilverSol Nano Silver Solution

SilverSol Nano Silver Solution is antibacterial, antimicrobial, anti-inflammatory and anti-fungal. Our patented Nano Silver destroys pathogenic bacteria by stealing electrons from the cell wall and imploding it. It can pass through bio film without harming healthy cells. Coral Nano Silver Toothpaste uses all-natural silver that is powerful enough to destroy bad bacteria while being probiotic friendly.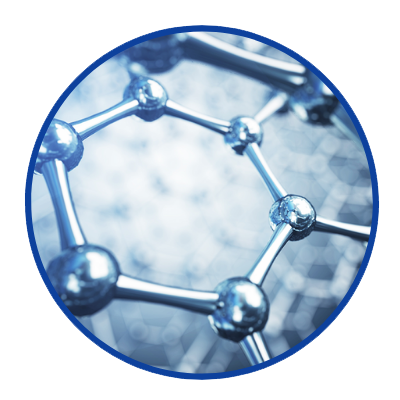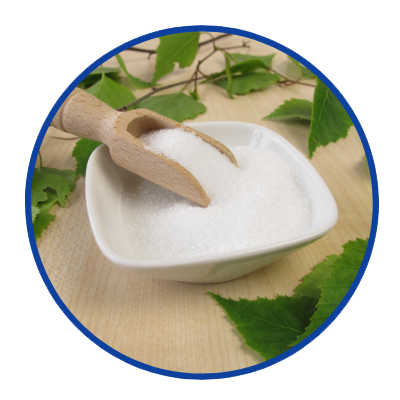 Xylitol is a natural sweetener that prevents bacteria from sticking to the teeth. Xylitol inhibits the growth of the bacteria that cause cavities. This protects teeth from tooth decay and decreases the amount of plaque on your teeth. Over time with xylitol use, the quality of the bacteria in the mouth changes and fewer and fewer decay-causing bacteria survive on tooth surfaces. Research has shown Xylitol also helps repair damage to the enamel and helps to protect against gum disease.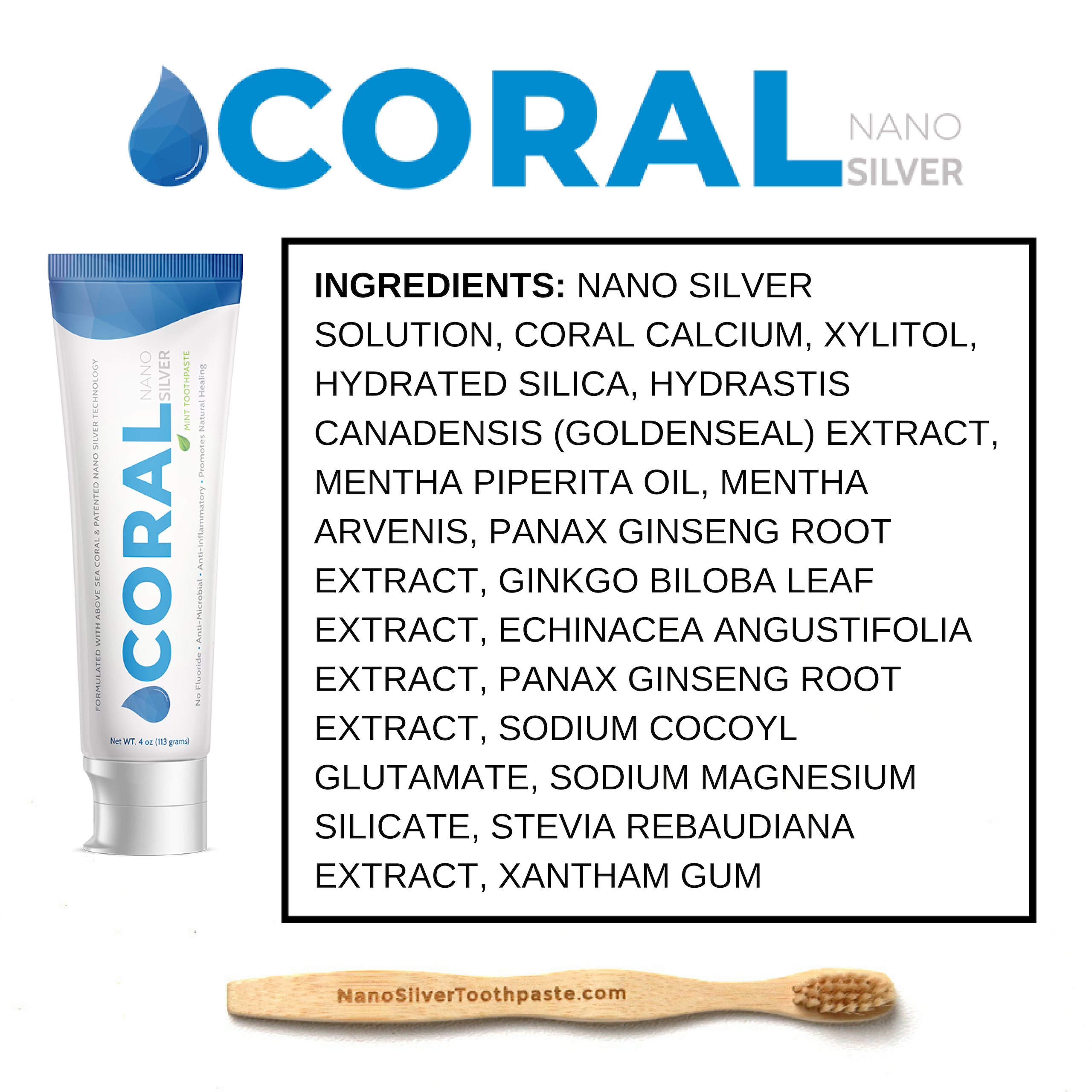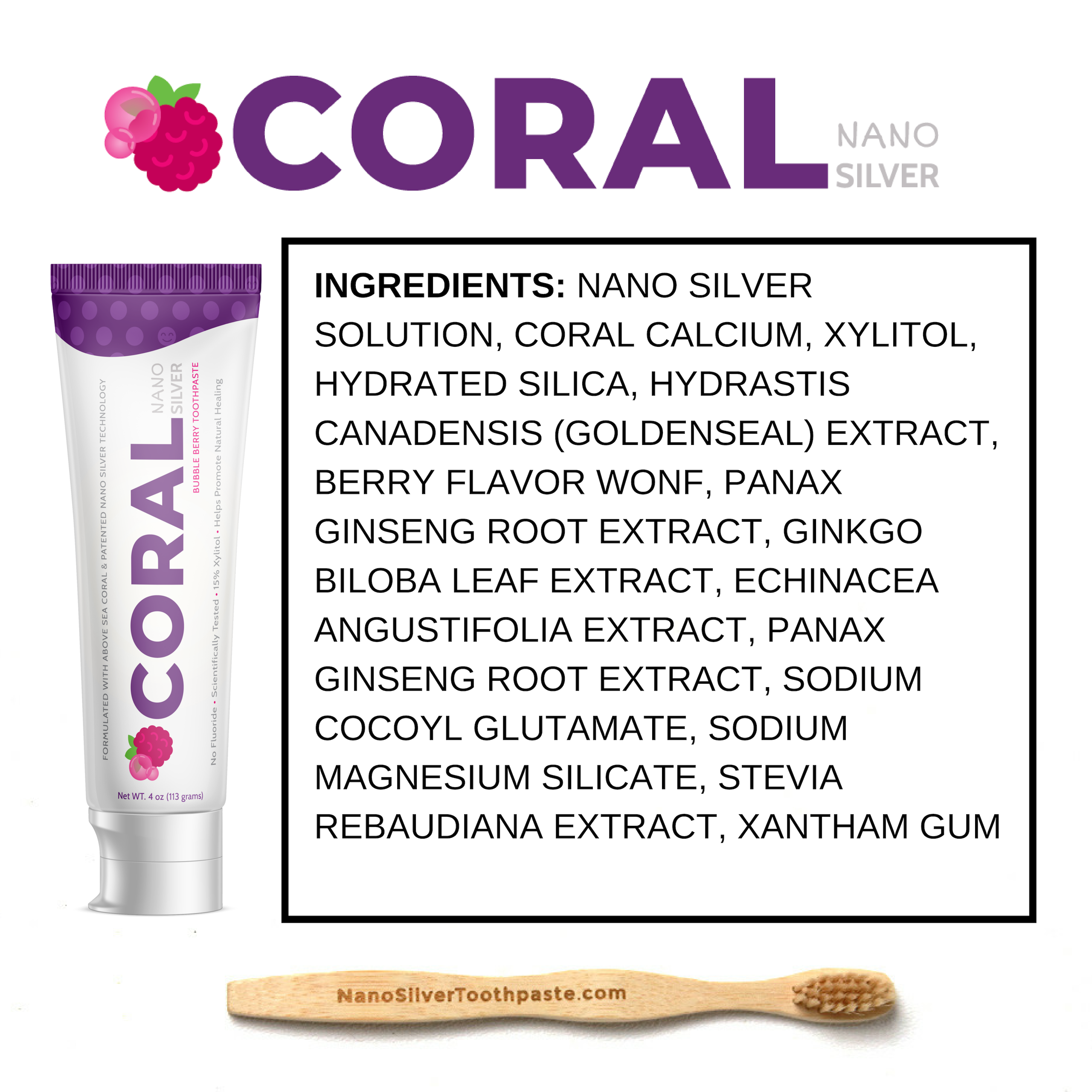 These statements have not been evaluated by the FDA. This product is not intended to diagnose, treat, cure or prevent any disease or medical condition. Always consult with your doctor and receive proper medical advice before taking any supplement